BITCOIN (BUY THE DIP®) TACTICAL LONG Strategy
Introducing our proprietary actively managed strategy for Bitcoin, designed to buy and sell after a minimum 40% drop from its all-time high. While the market is saturated with products merely replicating the underlying asset's performance, our approach stands out. We offer an innovative method and a unique product that no one else can.
Instrument Traded:
Bitcoin Spot
Future
Perpetual
Options
Strategy Performance: We actively manage the strategy daily, backed by stringent risk management protocols. Our aim is consistent positive annual performance, striving to eliminate years with losses. Since its inception in 2017 following Bitcoin's all-time highs, the strategy has delivered a staggering annual return of over 75%. We estimate ongoing yearly performance to be around 20-25%.
Strategy DrawDown: Since 2017, the maximum drawdown from a strategy "PEAK" has consistently been lower than simply holding (or "HODLing") Bitcoin. Historical performance doesn't guarantee future results. However, we have strong reasons to believe that even future drawdowns will hover around 32-35%. Importantly, they should never exceed Bitcoin's own drawdown, since we don't exit from a position bought at "bargain" prices; during these times, our approach mirrors a buy and hold strategy.

RESULTS
Strategy Inception (Launch): 30 November 2017
Currency: USD
NAV (Net Asset Value): 1000
PAUM (Proprietary Assets Under Management): 100.000 USD
ALL TIME PEAK NAV: (28 February 2022) 6602.89
CURRENT NAV (17 August 2023): 6056
Performance since launch: +505%
Average per year since inception (5 years): +101%

BITCOIN STATISTICS:
Bitcoin Price at Inception 2017: 11.879
Bitcoin Price today (17 August 2023): 27.000
Bitcoin buy and hold NAV: 2272 (Since 30 November 2017)
Bitcoin Performance: +127.29%
Max drawdown from ATH: -77.57%

BUY THE DIP® STATISTICS:
Active allocation: LONG 75% Cash 25%
BITCOIN (BUY THE DIP®) outperformance: +378%
Average Outperformance per year (5 years): +75%
Max drawdown from ATH: -36.29%
---

BITCOIN (BUY THE DIP®) TACTICAL LONG (Performance Chart)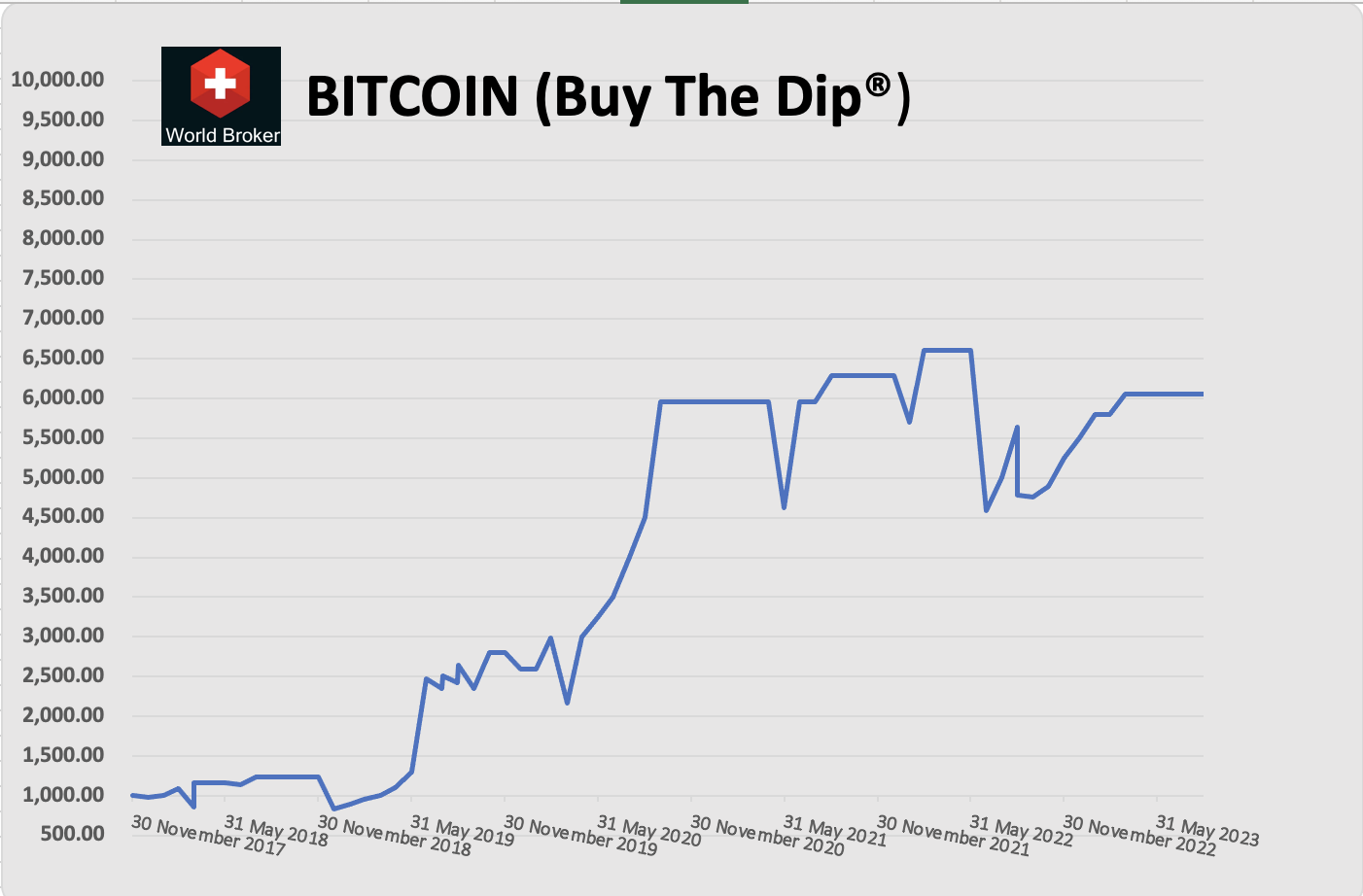 For any collaboration or subscriptions of signal service or licensing of our strategy (if available)
Please write us to info@worldbroker.com.
ABOUT US:

Proprietary Software: The Team of World Broker developed its own software (in the photo below) to analyse S&P500, Nasdaq 100, Dax, Eurostoxx, Bitcoin and Ethereum futures and options market. We are able to identify how the market makers or investors are moving or positioning in the market and from that we have a clear idea of which is the direction of the market and we can take advantage of that, and even in the case of a mistake in a trade or direction, we are able to hedge our trade to minimise stop losses and increase our profits.
Our sophisticated technical analysis is unique, we do not trade classic support or resistances but we trade what the market is doing at the right time and at the right level, something you can't know before it happen and that can be only possible with a strict realtime monitoring and risk management you can achieve. Our performance speak clearly.
Furthermore we manage our trades and positions directly from our software and send to any broker we use via API. This give us again the flexibility to collaborate with any major partner could be interested to diversify in us as portfolio managers.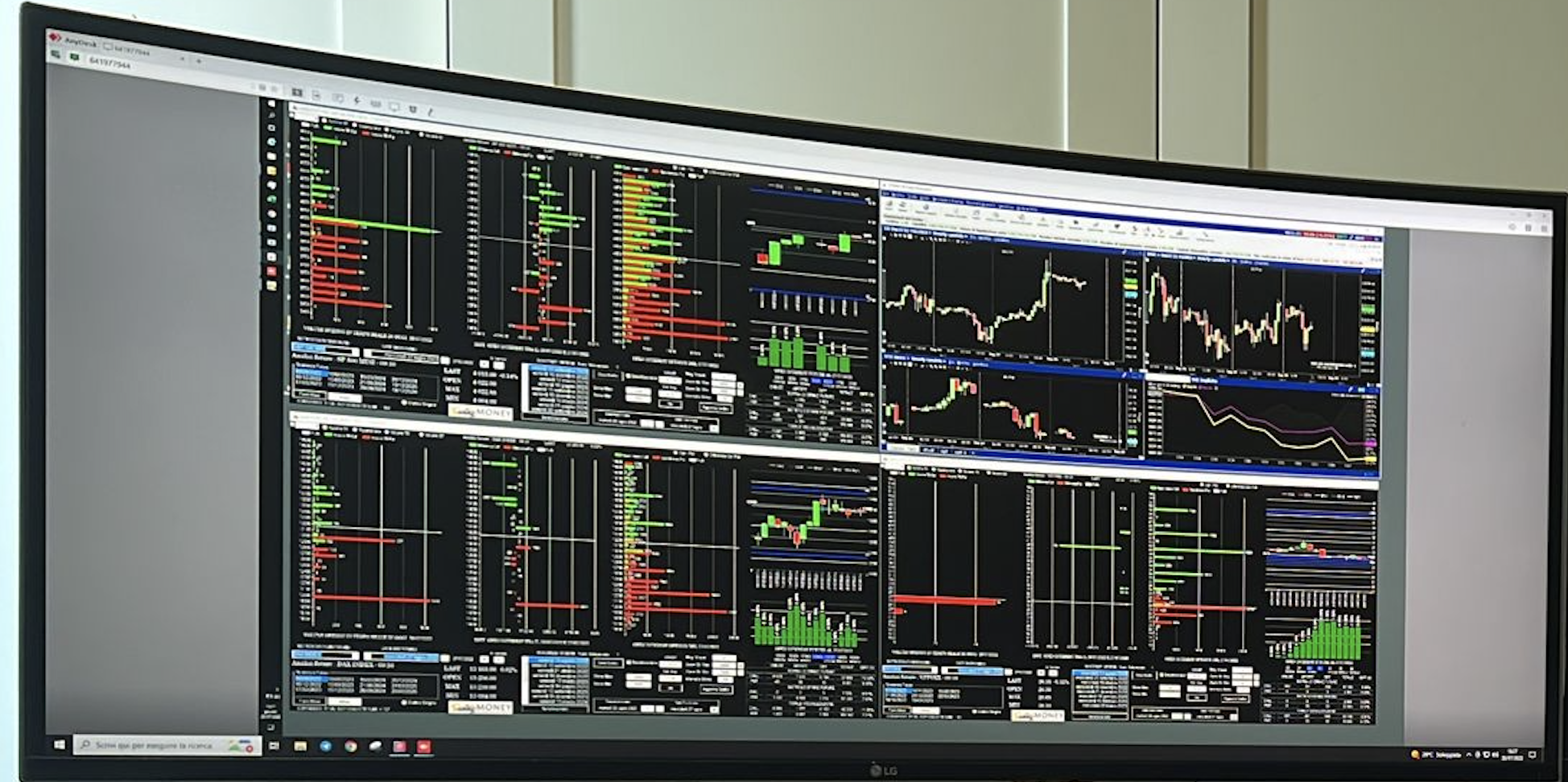 Disclaimer:
This website does not constitute an offer to sell, a solicitation of an offer to buy, or a recommendation of any security or any other product or service by World Broker Advisors or any other third party regardless of whether such security, product or service is referenced in this brochure. Furthermore, nothing in this website is intended to provide tax, legal, or investment advice and nothing in this website should be construed as a recommendation to buy, sell, or hold any investment or security or to engage in any investment strategy or transaction. World Broker Advisors does not represent that the securities, products, or services discussed in this website are suitable for any particular investor. You are solely responsible for determining whether any investment, investment strategy, security or related transaction is appropriate for you based on your personal investment objectives, financial circumstances and risk tolerance. You should consult your business advisor, attorney, or tax and accounting advisor regarding your specific business, legal or tax situation.
World Broker does not endorse any third party sites or links, unless specifically stated by WB. Links to WB from a third party website should not be considered an endorsement by WB or any of its employees. The products and services offered on a third party website linked to WB are not offered or owned by WB unless indicated, and WB cannot attest to the accuracy of information provided by these third party websites. When advertising on third party websites, WB will not be responsible for the content of other advertisers or the content of the third party website.
© World Broker