World Broker is specialised in asset management solutions with traditional instruments (Managed Accounts, CTA, Hedge Funds) or innovative instruments such as AMC (Actively Managed Certificates) in Switzerland or Luxembourg.
World Broker has its own proprietary investment ideas and strategies and offers its clients (Istitutionals, Asset Managers) the possibility of creating their own strategies and products that they can then manage independently or with the help and external advice of our team to achieve the set goals.
We can also help to obtain an asset management license, if needed.
Assets accessible at 360 degrees from public markets (Equity, Bonds, Commodities, Forex, Structured Products, Quantitative Investment Strategies) to private markets (Private Equity, Private Debt, Real Estate, Energy, Infrastructures, Collectables).
Since 2021 we are able to offer solutions also for all digital assets (Cryptocurrencies, Spot, Futures, Perpetuals, Options, OTC) to create your own fund.
Our key products are AMC (Actively Managed Certificates) to manage discretionary and strategic portfolios, Trackers for static investments and CLN (Credit Linked Notes) for structured loans.
BENEFITS of our Asset Management solution: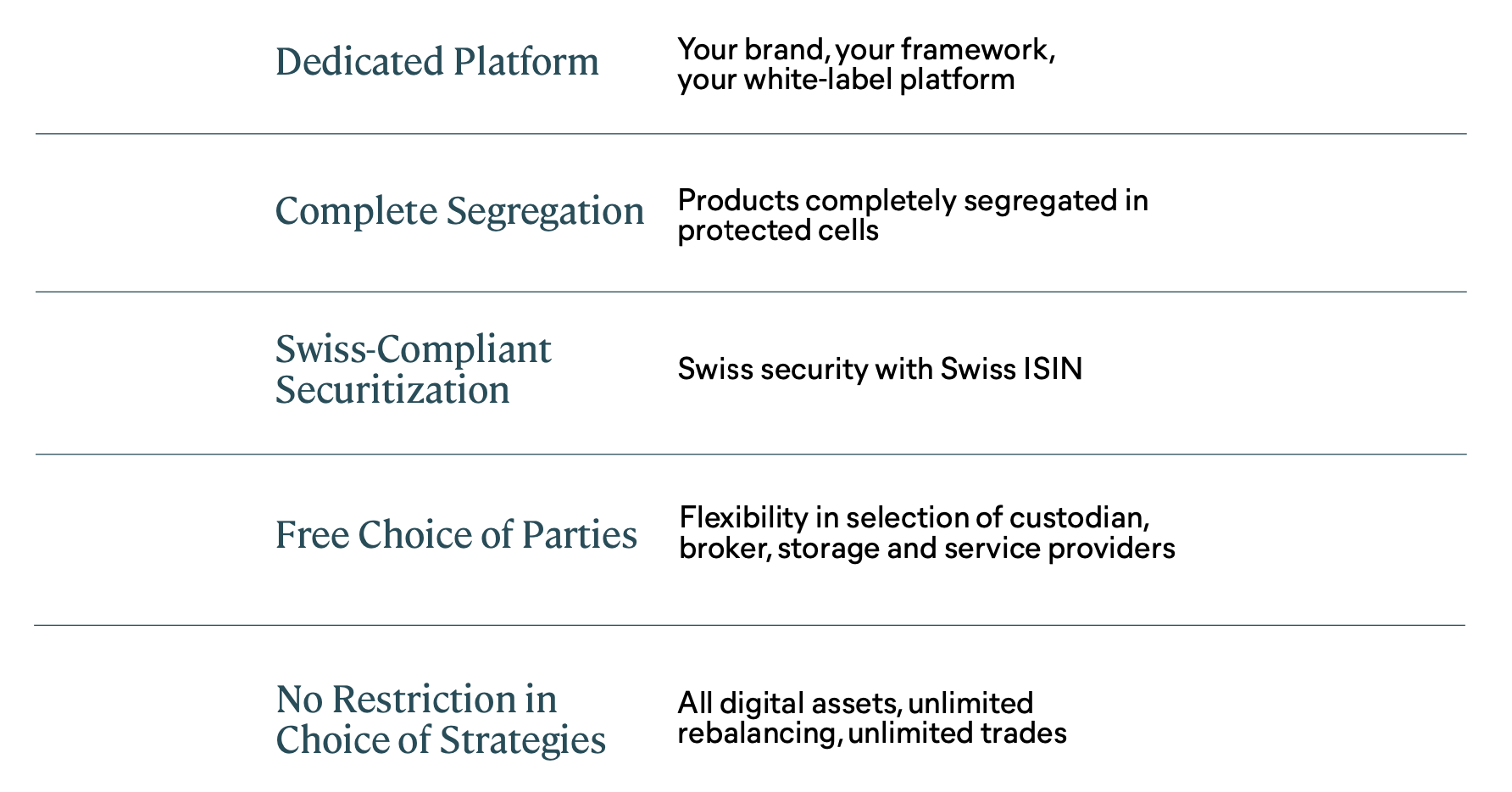 What we offer, through our partners in Switzerland, are dedicated solutions, off-balance sheet, white-label issuance platform, with no bank issuer risk to issue an unlimited number of structured products across asset classes.
All this can also be applied to strategies and ideas on digital and Crypto assets by means of an investable and tradeable security with a Swiss ISIN (CH) which can also be listed on the Swiss, German or Austrian stock exchanges.
All our services are aimed at financial intermediaries globally, Banks, Brokers, Asset Managers, Family Offices, Lawyers Firms, Venture Capitalists, Private Equity Firms, High Net Worth Individuals or Project Financing.


| | |
| --- | --- |
| WHAT THE CLIENT PROVIDE US: | WHAT THE CLIENT GET FROM US: |
Oversee all your issuance platforms , products and workflows in a digital portal: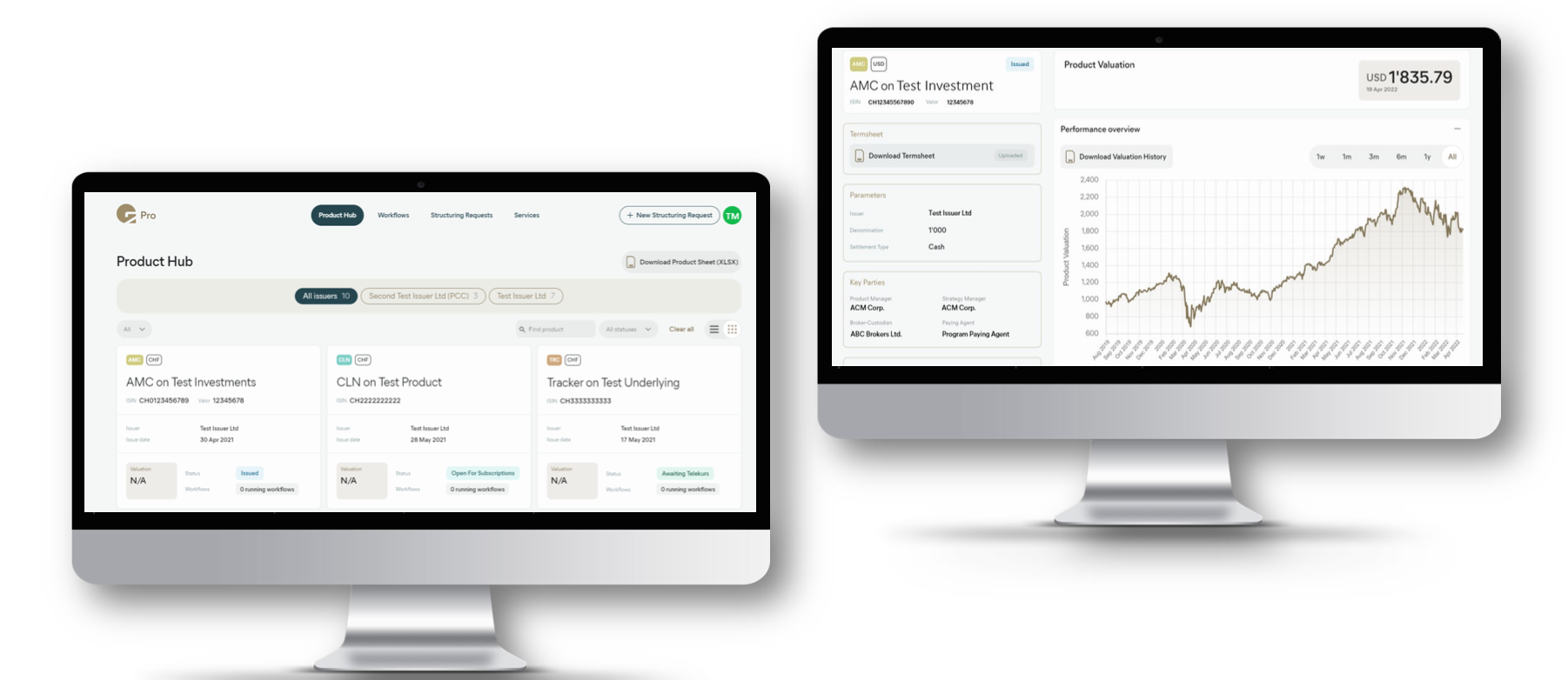 Bloomberg listing of your product: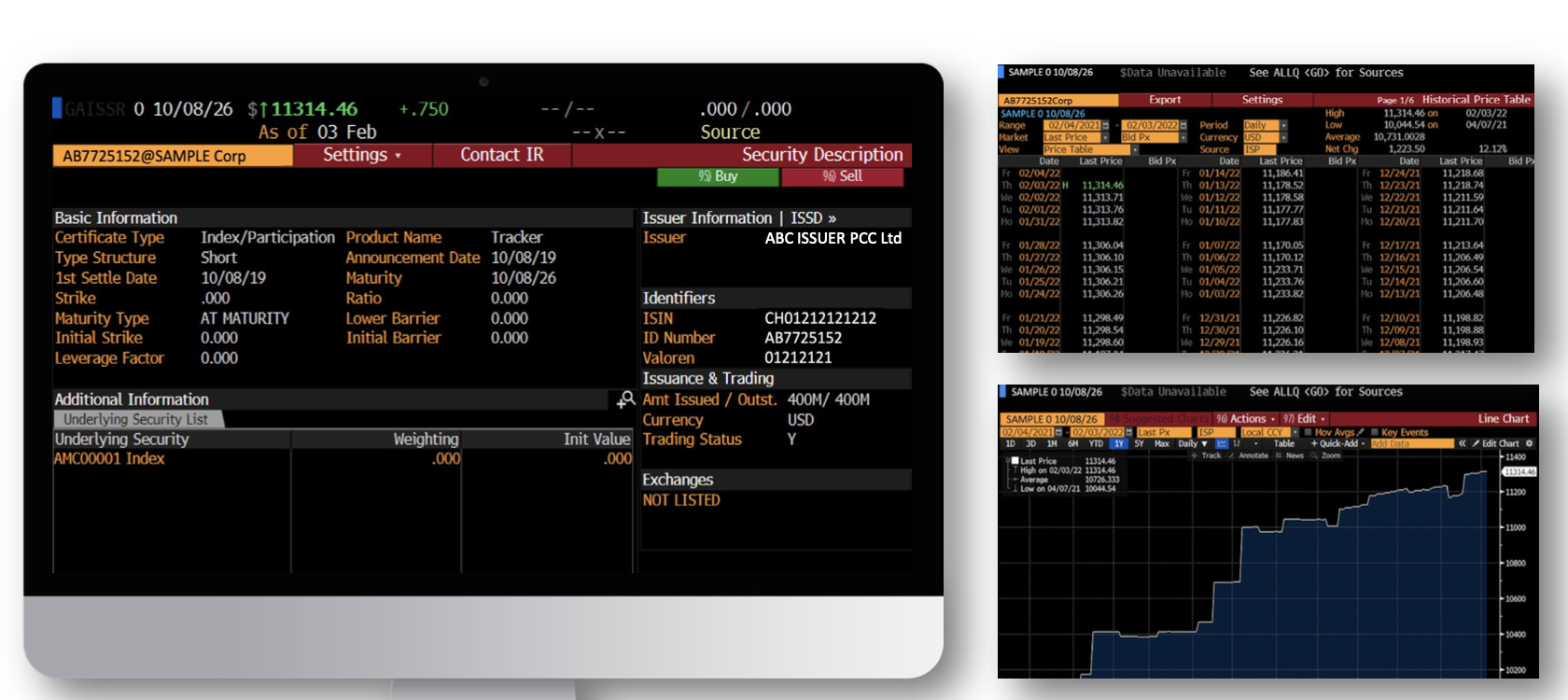 Exchange listing (ETP, ETF, ETN, CLN etc.) in several exchanges (Switzerland, Germany and Austria).


The world broker team has an experience of over 30 years in the world of trading, investments, Hedge Funds, we think that our innovative choice to focus on new flexible and effective tools such as those we offer, the partnership with Swiss investment and consulting firms , and a product based and regulated in Switzerland is a new, unique, rapid and much more efficient opportunity than other traditional instruments such as Hedge Funds, Luxembourg, Maltese or Irish Investment Funds, or asset management licenses that they then have on the side practical of management and costs, many disadvantages making projects often impossible to carry out or worse, a failure.
For any information and help in setting up your solution, idea or product, do not hesitate to contact us at info@worldbroker.com.
World Broker.